How to Be Deeply Rooted in Christ - iBelieve Truth: A Devotional for Women - February 1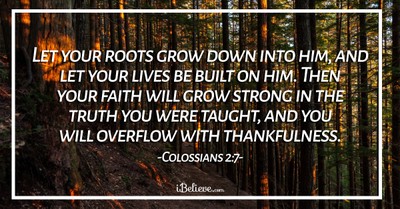 Crosswalk.com

How to Be Deeply Rooted in Christ
By Tiffany Thibault
Let your roots grow down into him, and let your lives be built on him. Then your faith will grow strong in the truth you were taught, and you will overflow with thankfulness. - Colossians 2:7 (NLT)
One weekend evening, many years ago, my family had been invited to dinner at a church member's home. I remember it as having been a fun, relaxing evening of good food and the chance for my brother, sister and I to enjoy playing new board games together as the adults talked in the other room.
The light afternoon rain had turned into a steady evening drizzle, with lighting and thunder increasing in their intensity. My parents began to worry about the road conditions and hurried us to clean up the games.
After saying our quick goodbyes, my dad pulled our car out of their driveway and turned down the road, heading to where we lived in an adjoining town, thirty minutes away. It was a two-lane, dark country road. The only light came from our headlights and the steady lightning in the sky around us.
My dad drove slower and slower down the road, the heavy rain quickly diminishing our visibility. Suddenly we all gasped. My dad quickly applied the brakes. Ahead of us, blocking the entire road was a huge tree. It had been uprooted and had fallen down. Our car stopped just inches from hitting it.
Slowly, carefully, my dad turned the car around and drove back a few miles to take a different road to get to our house. Thankfully no other trees fell to block our path, and we were able to get safely home.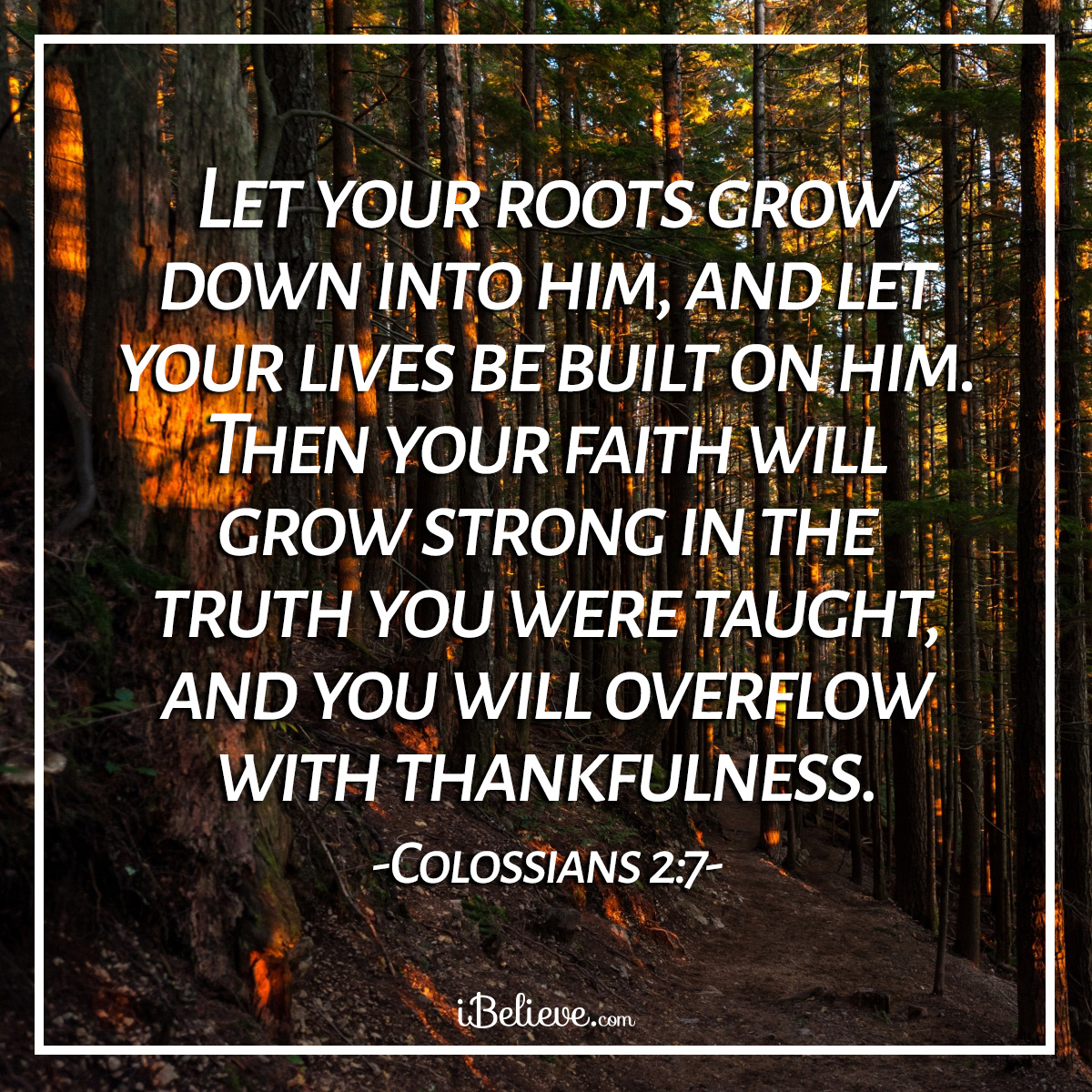 As believers in Jesus, this verse reminds us to put down deep roots into him, and let our lives be built on him. That tree that fell down, lay across the road, all its roots were pulled up, exposed. The ground could not hold it because the tree had not allowed its roots to grow deep into the ground through the years.
A tree depends upon its roots for food on a daily basis. If a drought came, the tree would eventually die from lack of nourishment. So too, our spiritual lives wither a little bit more every day that we spend away from having that focused time with God. When you look honestly at your walk with the Lord, are you spending time in the Word? Are you daily seeking to know him more?
A tree also needs the roots to grow down deeper every single season, so that as the tree grows upward to maturity, the roots will be able to hold it in the ground, no matter how big that tree grows. This is also true in our faith. The more we know of the character of the Lord, the more we will begin to reflect him as we live out our lives.
As we daily continue to spend time in the Word, learning more about the Lord, our faith will grow stronger, our lives will change and we will make choices that are honoring to Him. Today's verse talked about our lives being built on Him. Are you "building your life" on His principles? Are your relationships echoing His grace and love? Are your business dealings reflecting His honesty and wisdom? Is your attitude mirroring His peace?
Circumstances will always arise that try to uproot our faith, our peace, our health, and our sanity. If your faith is in Him, then you will be able to face each situation with a heart of thankfulness for all that He has done for you, in you, and all that He will do in your future, from your history of spending time with Him.
Just as my family trusted my father to get us safely home in a fierce storm, you too can trust in your faith in the Lord. You can go forward into the unknown, knowing that He is with you each and every step of the way.
---
Tiffany Thibault enjoys living life with her husband, two daughters and one very large dog in San Diego. She not only homeschools her girls, but she also loves to write about Jesus and speak about Him to groups of women. She loves long walks, coffee and anything chocolate.
Looking for authentic conversations about how to deal with body image, insecurity, and comparison issues as a Christian woman? The Compared to Who? Podcast is the show for you! Twice a week, we tackle tough topics like dieting, disordered eating, weight loss, aging, body dysmorphia, and more from a practical, grace-filled, gospel-centered perspective.